b.glen
Brightening Care
[Highly Penetrative]
Arbutin skincare products
developed by a
Pharmacologist for his wife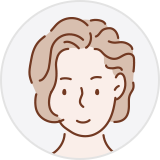 50s / Combination Skin
I noticed that my stubborn dark spots were getting lighter little by little. My daughter also noticed that as well, which motivated me to continue using.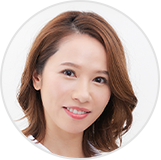 Dr.Miyaka Sato
(Dermatologist)
Not only does it contain skin brightening ingredients, it is also highly valued for its unique technology, QuSome, which specialises on the delivery of brightening ingredients deep between the skin layers. QuSome can also improve the penetrative ability of other skincare ingredients.
95% satisfaction rating! Special penetrative technology brings out the full potential and power of "Arbutin"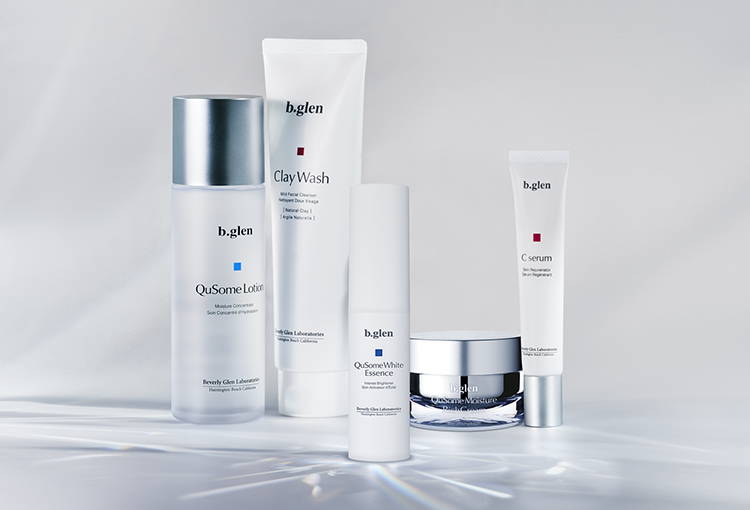 b.glen QuSome White Essence has been featured in different popular Japanese beauty magazines, such as MAQUIA.
A brightening essence from derma skincare brand "b.glen", which contains a high concentration of Arbutin, a natural brightening ingredient found in plants such as bilberries, pears, and bearberries.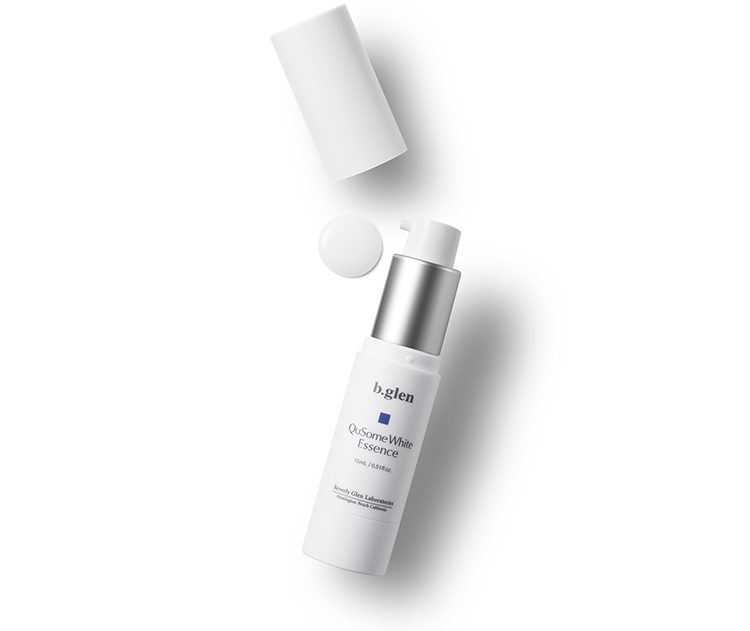 Although Arbutin has a similar chemical compound as [Hydroquinone - the most known brightening ingredient]. Arbutin has advantages over Hydroquinone. Arbutin does not cause irritation and damage caused by ultraviolet rays. Arbutin is considered to be the next-generation brightening ingredient. An effective and safer alternative to Hydroquinone.
In addition, QuSome White Essence is a beauty essence that is highly effective against dark spots; it safely and reliably delivers active brightening ingredients by enclosing them in a nano-sized capsules using b.glen's unique penetrative "QuSome" technology.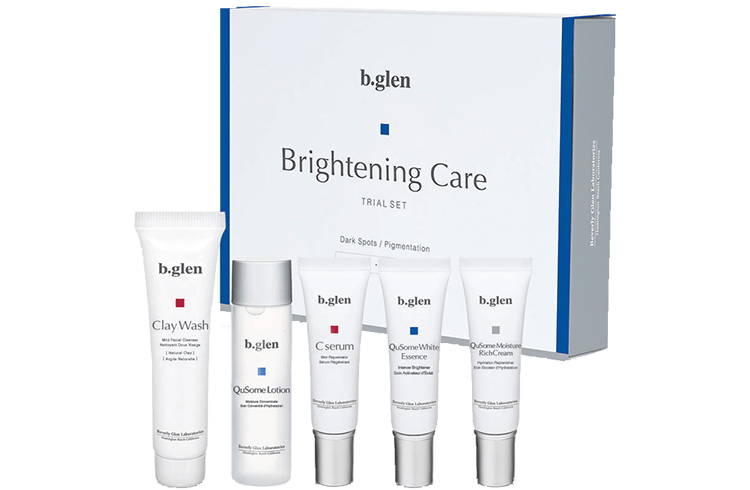 The best way to experience the effects QuSome White Essence is to try b.glen's Brightening Care set, 7-day intensive care trial set. Find out for yourself if Arbutin suits your skin and whether you notice any changes in your pigmentation. This is a special 5-piece set that includes the complete routine from cleansing to moisturising. Within those 5 pieces, it includes b.glen's long-selling vitamin C serum! Highly concentrated pure vitamin C serum has an immediate gentle warmth sensation with instant changes.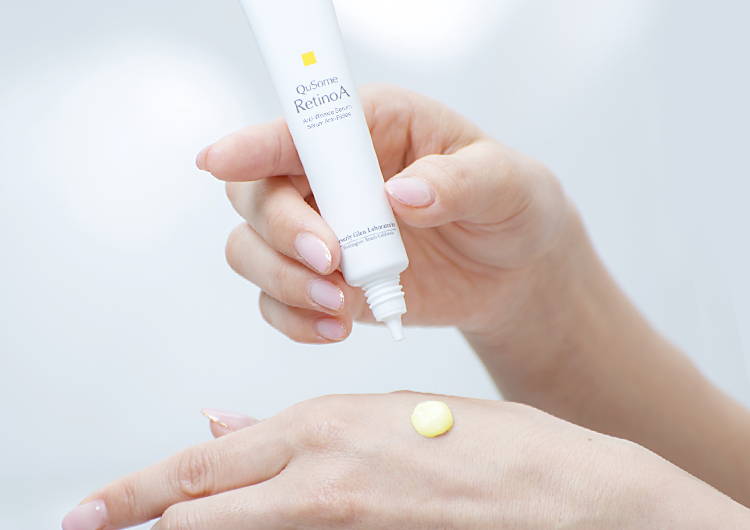 What's more - "by first come first serve" basis, b.glen QuSome Retino A is free. A retinol serum that is famous for its anti-aging effect by promoting fast skin turnover. A special gift for a limited time! To recap, a 5-piece set + retinol serum = special 6-piece set!
Only to first timers only, you can experience this 7-day trial set at 39 SGD (tax included), which is about 55% off from the price of regular products in the trial volume. A great-value trial set which allows you to try the popular brightening serum as intended. Free shipping and no handling fees, with a 365-day money-back guarantee.

Highly Recommended!
Here's why we love it!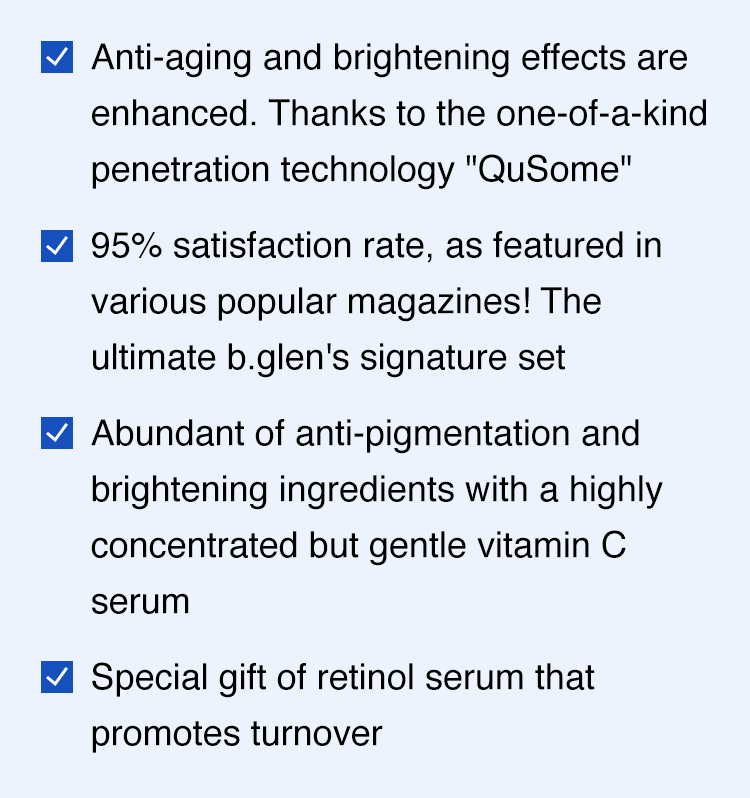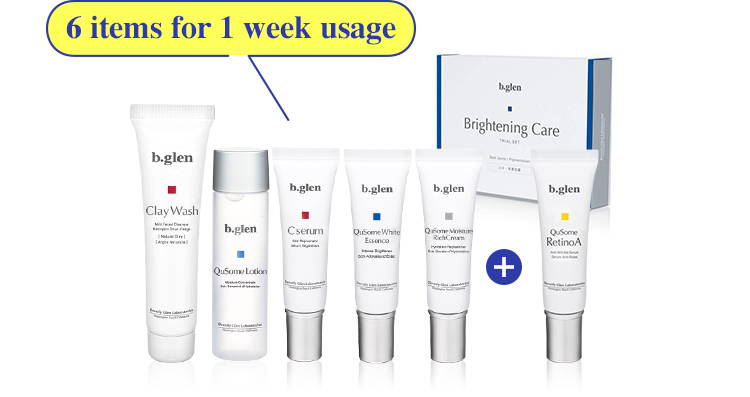 39 SGD (tax included),
55% off the regular price

・Overall Rating:
・Promotion: 7-day trial of 6-piece set 39SGD (tax included)
・Active ingredients: Arbutin (brightening ingredient), Vitamin C (turnover),
Retinol (turnover, anti-aging)

"Arbutin" in QuSome White Essence and "Retinol" in QuSome Retino A are encapsulated in nano-sized capsules by QuSome. The capsules protect the ingredients and is safely delivered deep in the skin. The results are enhanced as both active ingredients target dark spots deep in the skin. Ingredients works together to prevent and erase current and future pigmentation. You can try this set at an attractive price of just 39 SGD (tax included) and experience the synergy of arbutin and retinol on your skin!
\ Learn More About Promotion /

Product Specification Survey
Formulation consists of multi-functional ingredients that deliver brightening (*) ingredients "to where you need them" and "doing so reliably"
49 years old /
Normal Skin
I've tried various brightening skincare products, but I have never experienced this much of results before,
Arbutin is a plant-derived substance formed by combining hydroquinone and glucose. Since it is a more natural ingredient than hydroquinone, it does not irritate the skin and does not cause damage due to ultraviolet rays, which is a weak point of hydroquinone, so it can also be used during the daytime. It works directly on triclonide,this means it prevents the synthesis of melanin. No melanin, no age spots.
In addition, b.glen independently developed the penetrative technology "QuSome" as led by Dr. Brian Keller, who has conducted various research on medical technology at the University of California. Reliable and stable ingredients delivered deep in the skin layers can expect more moisturising, brightening, elasticity and brightening efficacy (*).
The results of combining with b.glen's powerful brightening ingredients can be life-changing! Power of penetrative technology "QuSome" is underrated. Try for yourself today.
(*) Suppresses the production of melanin and prevents dark spots and freckles caused by sunburn

This 6-piece brightening trial set at 39 SGD (tax included) is at almost below cost price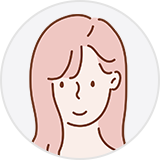 25 years old /
Normal Skin
Although QuSome White Essence is bit pricey, it is gentler than hydroquinone products. I felt the serum being absorbed deeply into my skin and it had noticeable results, so I decided to order it again.
With the foundation of more than 25 years of research by b.glen, QuSome, unique technology originally developed as a drug delivery system. Other skincare brands cannot use QuSome as it is patented by b.glen. QuSome White Essence is formulated with QuSome tech and with high concentration of brightening ingredients, comes at a premium price of SGD 55 (tax included).
Despite the premium pricing, there are still many satisfied customers who continued to purchase and use it. Satisfaction rate is at 95%! You can purchase Brightening Care 7-day trial set + retinol serum, which includes QuSome White Essence, at just 39 SGD (tax included). Once you try it, you can see the results for yourself. Specially for first-time customers to try, b.glen is exclusively offering it at such an attractive price!

Not sticky but rich! It also glides well on the skin.
Although it is a serum, its texture is more like a lighter milky lotion while moisturising well, it does not have the greasiness of the typical lotion or cream and it is not sticky on the skin, so the serum can be used on both oily and dry skin. The slight fruity scent makes you feel good during your skincare routine in the morning and evening.
You can notice that it absorbs easily into your skin after applying it on your face; the texture makes it easy to massage your skin in your routine ♪

Keeps serum in optimal condition with the airless pump and single-use bottle
An airless pump is used to prevent air and germs from entering the bottle and keep delicate active ingredients in the best condition. When you press the pump, the disk inside the airless bottle rises which dispenses the serum cleanly without wasting any content.
The functionality of the packaging may not be obvious until you use it for a while. b.glen places high emphasis on such details to ensure that customers can use the product with a peace of mind.

Absorbed into my skin very well

I had dull skin with chloasma, so I was trying out various brightening products.
I tried using b.glen, this product glides onto my skin very smoothly and got absorbed into my skin easily.
It's not sticky and it's easy to use since it blends smoothly on my skin.
(42 years old , Sensitive Skin)
No sticky feeling from the serum

I can tell that my skin is moisturised for a long time; I like it very much as it does not have the sticky feeling like the other serums. I like the fact that there is no strong smell or fragrance as I have small children. I intend to continue using it to moisturise my skin and be a beautiful mom.
(Early 30s / Female / Sensitive Skin / Housewife)
Immediate results and gentle formulations

I have tried various brightening skincare products as I have darker skin, but this product was such a star. I was able to see results in a short time and it was gentle on sensitive skin, as compared to other similar skincare brands. After 1 month, I could see improvements in the V line around the eyes and the dullness of the cheeks. The dullness becomes less obvious. I am looking forward to transforming my skin further.
(20s / Female / Sensitive Skin)
Introductory Video of Original "QuSome" Technology

Besides the brightening serums, this 7-day trial set also includes a natural clay cleanser, 17 hours-lasting QuSome toner, and a firming moisturiser! You can try it with SGD39 (tax included), with free shipping in SG. If you've always wanted to treat your dark spots or dull skin, please try it ♪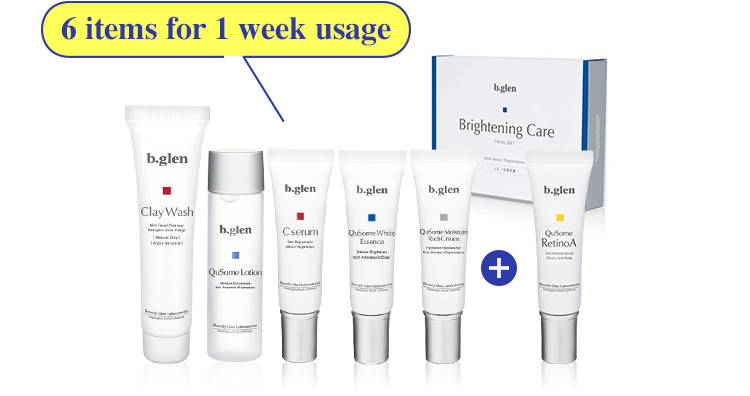 \ Check trial price on the official website /

Please send your questions to our Editorial team via Messenger.

© Copyright Beauty Trends.
All rights reserved.